Welcome
JL Peridot writes love stories and more from her home beneath the southern skies. Her latest novelette, O, swear not by the moon, is a romantic sci-fi tale, featuring virtual realism and a neurally entangled love that crosses the boundary between worlds. You can find it in the Star Crossed anthology from Fedowar Press.
When not writing, JL nerds out over cryptic crosswords, calisthenics, and mechanical keyboards—all while dreaming of cyberpunk cityscapes and retrofuture romance. She also tweets, grams, and emails her personal mailing list.
News
Star Crossed — out now!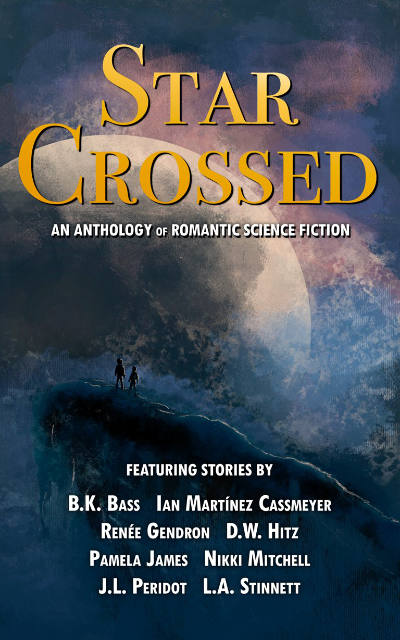 Available now: Star Crossed, an anthology of romantic science fiction inspired by a common theme of space, imagination, and connection.
It features my short story, O, swear not by the moon, alongside moving works of fiction by some amazing indie authors.
Here's a little excerpt:
"And I contribute code to this place," he adds, tossing a ball decorated with the topology of her homeworld. It materialises from nothing and spins on his finger. "Do I captivate you sufficiently?"

"The axis is off by three degrees." Tanith swats the ball away. It disappears in a puff of gold feathers. There's a sparkle in his eyes—they chroma-shift and she adores it.
Edited by Renée Gendron. Published by Fedowar Press.
Books
Alliance Worlds
Other Fiction
Anthology Appearances
About JL
JL Peridot, sometimes credited as "J.L. Peridot", is a third-culture, first-generation Southeast Asian, pronoun-flexible nerd raised by tiger parents, sweet-smelling books, and a love-hate relationship with words. After her dad showed her how to use WordPerfect 4.2, she began a gruelling descent down the writing rabbit hole.
The first story she ever completed was a four-page police procedural handed in as a Year 10 English assignment. She gave up writing shortly after to study computer science. Then a little over a decade later, she cracked the shits with her tech career and now writes speculative, steamy and romantic stories about people finding themselves as they answer the call of love.
She currently resides in Boorloo (aka. Perth) on Whadjuk Noongar country.
Dot Club
A word on privacy: I collect only your email address for the purpose of sending you personal updates, book news, interesting finds, and sometimes a microstory for your reading pleasure. This is a "double opt-in" mailing list, which you can unsubscribe from at any time.
Acknowledgements
Thank you so much to my wonderful partner for making this website possible. Thank you to my publishers, editors, test readers, designers, collaborators, reviewers and subscribers for believing in my work. And thank you, dear reader, for supporting me on this journey.