Welcome
JL Peridot writes love stories and more from her home beneath the southern skies. Her latest book, It Starts With A Kiss, is a nerdy office romance set on a space station, featuring colourful characters working together to leave their dead-end jobs.
When not writing, she tweets, grams, and emails her personal mailing list.
News
It Starts With A Kiss — available now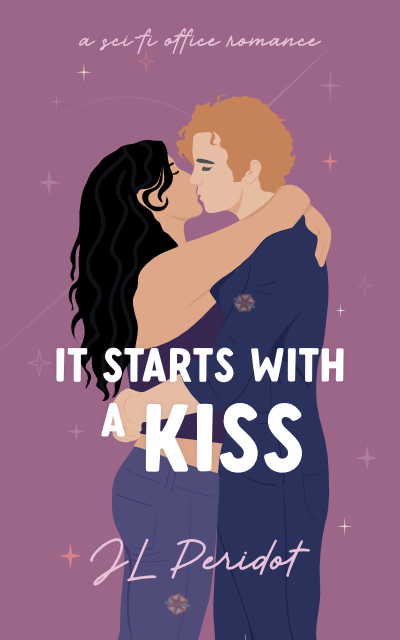 Celeste is a talented engineer who doesn't realize her job's going nowhere fast. She's a little naïve. She'll cut code and solder cables forever as long as Owen's around. Owen, on the other hand, knows exactly how badly things suck—he just doesn't care. Sure, his skills aren't what they used to be, but they're still better than what Halcyon Aries deserves.
Then it happens. The company's toxic management team finally cross the line. As both techies race to upgrade the station and to free the team from their oppressive contracts, they come to learn that life—and love—can only ever be what you make it.
Strap in for a steamy office romance in space, because sometimes It Starts With a Kiss!
Books
Alliance Worlds
Other Fiction
Anthology Appearances
About JL
JL Peridot is a third-culture, first-generation Southeast Asian nerd raised by tiger parents, sweet-smelling books, and a love-hate relationship with words. After her dad showed her how to use WordPerfect 4.2, she began a gruelling descent down the writing rabbit hole.
The first story she ever completed was a four-page police procedural handed in as a Year 10 English assignment. She gave up writing shortly after to study computer science. Then a little over a decade later, she cracked the shits with her tech career and now writes speculative, steamy and romantic stories about people finding themselves as they answer the call of love.
She currently resides in Boorloo on Whadjuk Noongar country.
Dot Club
A word on privacy: I collect only your email address for the purpose of sending you personal updates, book news, interesting finds, and sometimes a microstory for your reading pleasure. This is a "double opt-in" mailing list.
Acknowledgements
Thank you so much to my wonderful partner for making this website possible. Thank you to my publishers, editors, test readers, designers, collaborators, reviewers and subscribers for believing in my work. And thank you, dear reader, for supporting me on this journey.