It Starts With A Kiss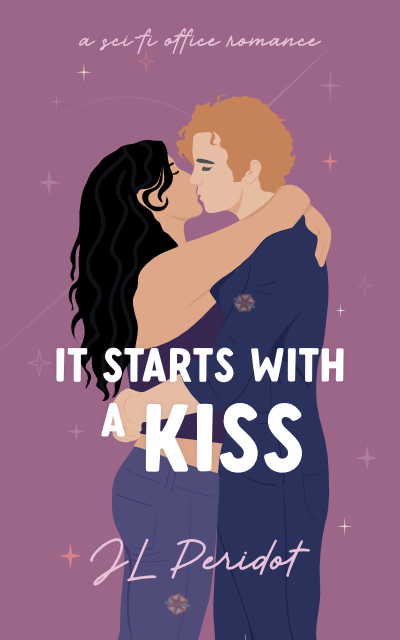 Romance novella, 113 pages
Celeste is a talented engineer who doesn't realize her job's going nowhere fast. She's a little naïve. She'll cut code and solder cables forever as long as Owen's around. Owen, on the other hand, knows exactly how badly things suck—he just doesn't care. Sure, his skills aren't what they used to be, but they're still better than what Halcyon Aries deserves.
Then it happens. The company's toxic management team finally cross the line. As both techies race to upgrade the station and to free the team from their oppressive contracts, they come to learn that life—and love—can only ever be what you make it.
Strap in for a steamy office romance in space, because sometimes It Starts With a Kiss!
Cover art by Sophia LeRoux
Excerpt
As she stepped out of her clothes, thermals and all, she thought of Owen with his top half down, walking casually around the function room. God, it would have been nice to have him up here. He had a trim figure—agile and fit for purpose. Not quite the big kind of guy that Tahnee went for, but not the slender, androgynous kind that Katie liked.
Back home, he would have been a surveyor or an ice climber. In the transient colonies, with their mishmash of standard gravities, he might have been a hauler. But he was just an engineer from Mars, working and bunking in a mail drop-off on the outer edge of Sol's Aries sector. Who would have thought someone like that could look so good?